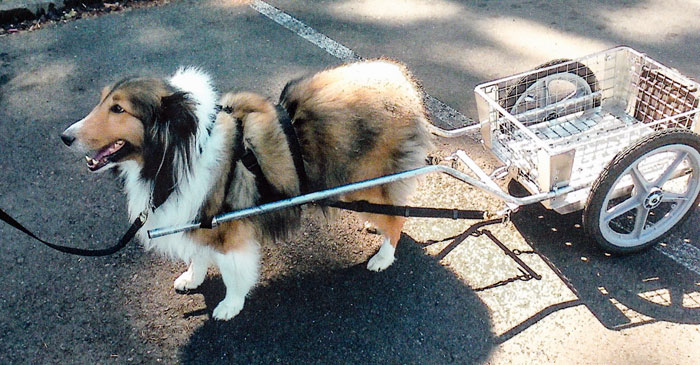 Carter of the Month 2016

Goldenhylite I Am Thunder RA, CGC, DN, Advanced NDD

I am happy to introduce you to Thor (a Shetland Sheepdog) and his owner, retired academic, Dr. Charles Self of Portland, Oregon. Professor Self bought a Custom Dog Cart and said he wanted to compete in draft dog competitions. Thor is an over-sized Sheltie who weighs 40 lbs and did well in both of his novice draft competitions.

The only draft club within their vicinity is a Bernese Mountain Dog club. The BMD requires dogs to pull heavier weights for higher titles and the weight requirement is too much for a Sheltie. An example is in Open Draft Thor would have been required to pull 60 pounds in his cart.
A talented Sheltie, Thor has earned the following titles:
1. Canine Good Citizen June 23, 2012 ;
2. Rally Novice January 19, 2012;
3. His first Draft Novice Title June 2, 2012;
4. Advanced Novice Draft Dog May 30, 2015.

We are pleased that his owner chose a Custom Dog Cart for Thor's drafting experiences.