CARTS & HARNESSES FOR SALE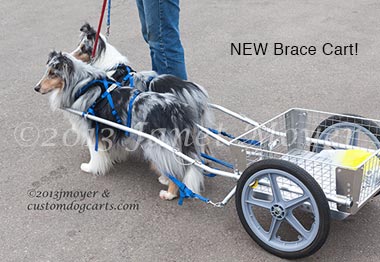 Custom dog carts three sizes of carts for sale will fit dogs ranging in size from Toys to the Giant breeds - large, medium and small.
The Brace Cart is our newest model, designed for two dogs to pull together. Available in three different sizes on a medium, large or largest cart.

The Large Cart is designed for giant breeds such as St. Bernards, Newfoundlands, Bernese Mt Dogs, or Swiss Mountain dogs.

The Medium Cart will fit breeds ranging in size from Beagles, Shelties to Collies or Labradors.

The Small Cart is designed for toy breeds and was originally made for a Yorkshire Terrier. It can also be used for dogs a little bigger.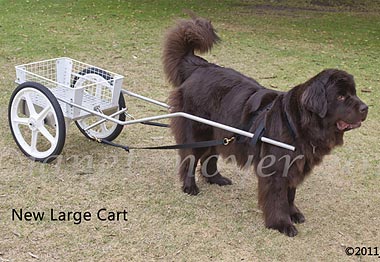 We make customized dog carts for small to giant breeds. Since each dog is a different size, correct measurements must be taken for harness and the cart. We can assist you in those measurements. Additionally, the dog's weight is needed to determine the fit of the harness. Our carts are made from an aircraft type aluminum and are sturdy and light weight. The cart is a unique design and features 4 adjustments for axle placement as well as 3 adjustments for shaft height. These features work very well if you are carting with several dogs of differing sizes. The carts are shipped from California via UPS or Fed-Ex.

HARNESSES FOR SALE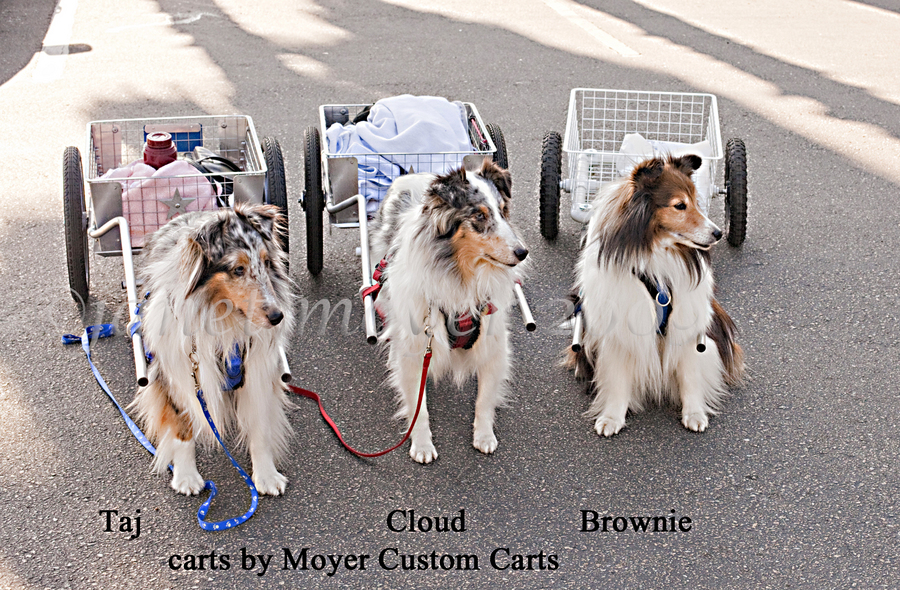 The Modified Siwash Harness is a very important part of carting as it protects your dog by distributing weight around the shafts. It is included in the purchase price with the cart. It is also custom sized for your dog and we will assist you in measuring your dog for it. Colors are available, depending on the supplier at the time of your order.
Email us at
jcmoyer@cox.net
or telephone 619-660-0009 for assistance and for free sizing charts.