DOG CARTS & HARNESSES FOR SALE

---
All Custom Dog Cart orders include harness, Take-Apart Shafts with brakes, single tree or double tree, tool kit, and illustrated booklet for fitting and adjusting the harness to the dog. Assembly instructions for the cart are in the booklet.
LARGE SINGLE CART
24" x 18" x 8", 20" wheels $ 570
Add $ 55 to your order for flat-free tires.
MEDIUM SINGLE CART
17" x 21" x 7", 16" wheels $ 550
Add $ 55 to your order for flat-free tires.
SMALLEST SINGLE CART
12" x 13", 12 ½" or 6" wheels $ 540

---
BRACE CARTS FOR TWO DOGS
Each fitted for two dogs, includes two harnesses.
All Brace Carts include three (3) Take-Apart Shafts, brakes, tool kit, and an illustrustrated booklet that teaches you to harness and fit it to your dog, and fit him to the cart. Assembly instructions for the cart are included in the booklet.
LARGE BRACE CART $ 770
24" x 18", 8", 20" inflatable tires/wheels
Flat-free tires can be substituted for the air inflated tires for an additional $ 55.
MEDIUM BRACE CART
17" x 21", 7", 16" air-inflated tires/wheels $ 740
Flat-free tires can be substituted for the air inflated tires for an additional $ 55.
Brace Carts can be converted to a single cart and back to a brace cart with the Conversion Kit for an additional $ 155.
---
TAKE-APART SHAFTS
The price of the Take-Apart Shafts is included in the price of the cart. Since we invented this handy shaft variation every customer has wanted them. Therefore, we now include them in all orders UNLESS the customer does not want them. They are helpful in putting the cart easily into your vehicle.
---
SHIPPING
As of 10/1/21 UPS, FedEx, and USPS raised shipping prices.
USA Shipping: All shipping is by UPS or FedEx, and they determine the cost based on your zip code and the dimensions and weight of the cartons. UPS may place a surcharge based on remote locations.
International Shipping: A rough estimate of $1100.00 USD or more makes it expensive. My international customers taught me that if they (or a friend) are in the U.S. and they take the cart back on the airplane as baggage the cost is zero or minimal. Check with your airlines to see if that is accurate for your country. I ship the carton(s) to an American address and you pick it up and take it to the air carrier.
---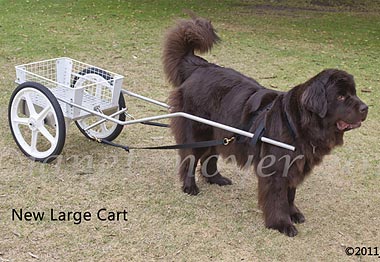 We make customized dog carts for small to giant breeds. Since each dog is a different size, correct measurements must be taken for harness and the cart. We can assist you in those measurements. Additionally, the dog's weight is needed to determine the fit of the harness. Our carts are made from an aircraft type aluminum and are sturdy and light weight.
The dog cart is a unique design and features four adjustments for axle placement as well as 3 adjustments for shaft height. These features work very well if you are carting with several dogs of differing sizes. The carts are shipped from ARIZONA via UPS or Fed-Ex.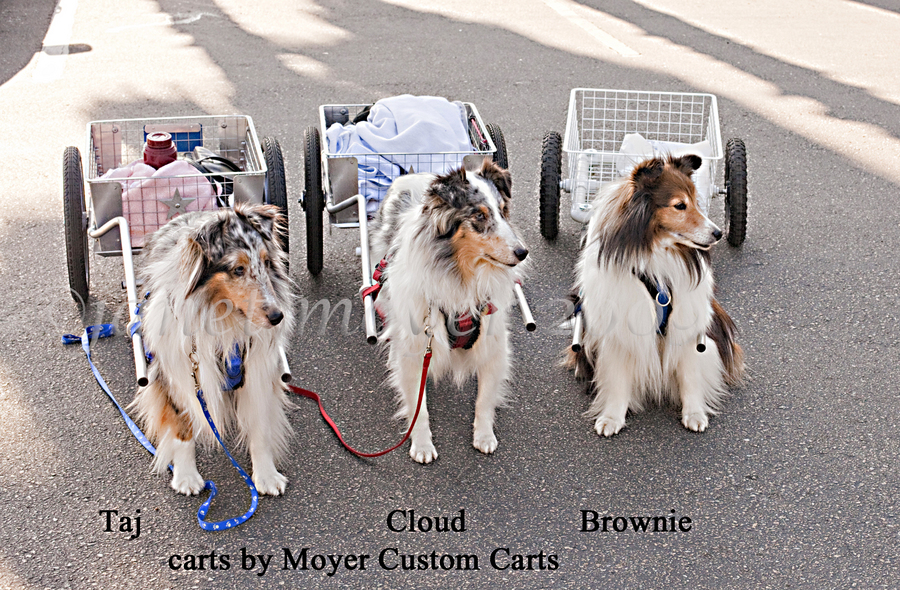 The Modified Siwash Harness the classic carting harness for draft dog carts. It protects your dog as the dog does not have to pull from the chest as happens in the parade style harness. The Siwash allows the dog to pull form the traces which attach to the harness and the cart's single tree.
THE HARNESS IS INCLUDED IN THE PURCHASE PRICE WITH THE CART. It is also custom sized for your dog and we will assist you in measuring your dog for it. Colors are available, depending on the supplier at the time of your order.
---
CUSTOM DOG CARTS
Single carts are available in small, medium, or large sizes.
The

Brace Cart

is designed for two dogs to pull together side-by-side. Only a medium or large cart can be made into a Brace Cart.

The Large Cart is designed for giant breeds such as St. Bernards, Newfoundlands, Bernese Mountain Dogs, or Swiss Mountain Dogs.

The Medium Cart will fit breeds ranging in size from Beagles to German Shepherds, Bouvier des Flandres, or Labradors. Some owners of larger dogs like this size cart for draft dog competition in which the dogs are required to carry weight in the cart.

The Small Cart is designed for smaller breeds 14-30 pounds as well as on their height at the withers. Breeds such as the smaller Shetland Sheepdog and the smaller Beagle. This cart is also appropriate for dogs with short legs such as terriers. The small carts can be fitted with smaller wheels such as the 10 1/2 inch or 12 inch wheel depending on height of the dog.