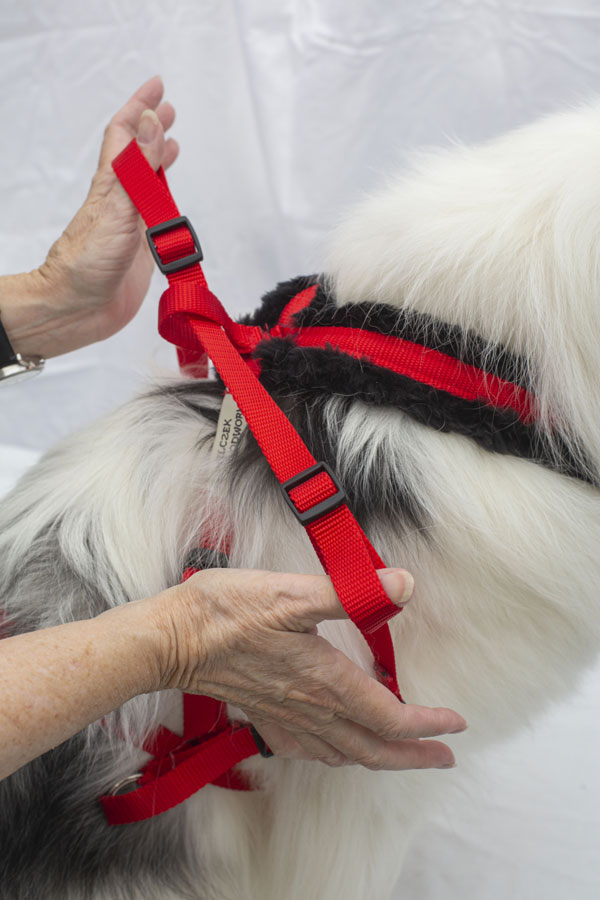 OLD-STYLE HARNESS
It is designed for small dogs.
This harness is used for smaller dogs up to 16" at the withers, and approximately 25 lbs. or less. Shelties, Beagles, French Bulldogs, are examples of smaller breeds that benefit from this harness.
This harness works as it does not have the clips at the top sides of the dog's harness as seen on the standard Siwash harness. Instead, there is a loop at the top of the harness. You thread the forward girth through the big loop. then adjust the loops on each end of the forward girth. The loops are now hanging on each side of the dog. You now insert the shafts into a loop on each side of the dog.
The loops can be shortened or lengthened as needed. Be sure that the shafts are now parallel to the ground. Use the loops to make the adjustment.
---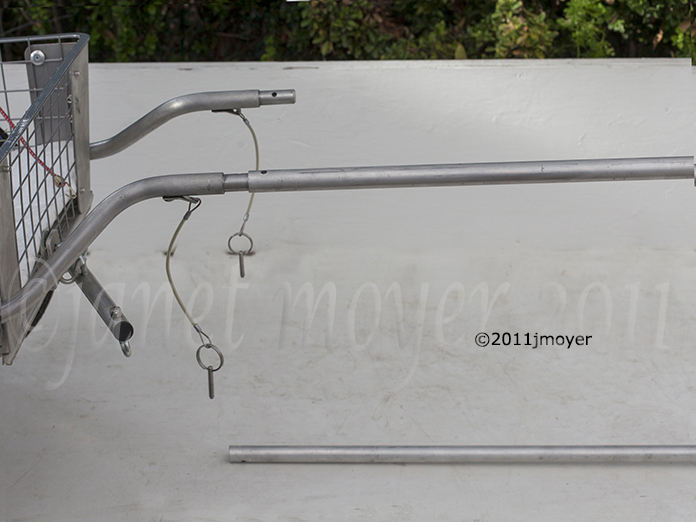 TAKE-APART SHAFTS, invented by Custom Dog Carts
Take-Apart Shafts enable you to put your cart and shafts in a car, wagon, or SUV very easily. They also reduce shipping costs as they usually fit inside the carton containing the cart.
These shafts are shown disassembled. They are easy to put back together by matching the holes in both pieces of the shafts and inserting the pin through the two holes. They are strong enough for the dog to pull the cart with weights in it.
Very handy for getting into and out of vehicles. A separate and additional pair of Take-Apart Shafts with brakes is $ 150 plus shipping, as a new set of shafts will have to be custom made to fit the dog.